AN AN ORIGINAL PACKAGING DESIGN CAN BE AN EXCELLENT STRATEGY
As is well known, packaging is the packaging of the product to be consumed. And although it may seem insignificant, it is the first thing the consumer sees about it. Therefore, it is very important to take care of its design and make it a good package capable of telling what we can expect from the product inside.
In order to celebrate Scotch-Brite®'s 60th anniversary, at WDi Group we wanted to design a fun and original packaging to highlight the functions of one of the brand's products: thelint roller.
The challenge was to generate a packaging that would allow us to approach mainly people with pets and therefore potential consumers of the roller. One of the concerns of these people is trying to get out of the house without looking like a hairball and that's where we wanted to focus.
We designed a packaging that played with this concept by creating a "before using the roller" and an "after using it".
The "before" could be seen on the outside of the box, which shows a hairy creature wearing sunglasses and the beginning of a sentence: "Give your appearance…". This suggests that you should remove the lid to find out the end of the sentence and discover what is hidden inside. Once removed, the "after" appears; an elegant and modern girl holding in her hands the reason why she looked like a hairball before: her beloved little dog.
Below you can read the end of the sentence that suggests you give your look "a different vibe". how? Just open the box and discover the product inside and understand the concept: stop worrying about looking like a ball of hair and give your look a different roll by using this Scotch-Brite® lint roller.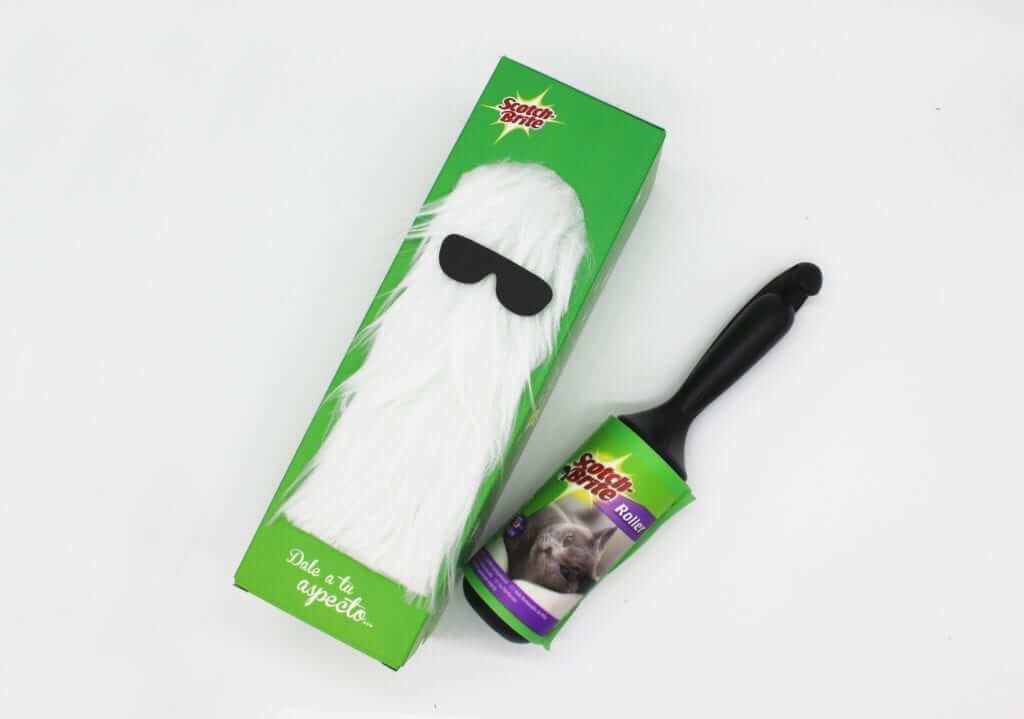 RESULTS:
To test the impact of this idea, the packaging was designed in 2 sizes, one for the pocket lint roller and one for the large lint roller.
2,300 small boxes were produced and sent to Patasbox to be received by those people who expect unique products for their pets every month.
As for the large size, 50 units were produced to send to influencers with mascots such as María Castro, Curly Azahara, José Ribagorda, Isabel Jimenez…
With this action we have managed to bring the product closer to consumers in a different and original way and we have been able to prove that with humour it is easier to attract the attention of users and thus make them interact more with the brand.
The packaging design was very well received, generating a lot of fun and smiles from consumers who shared their experiences with others through their social networks under the hashtag #unrollodiferente.