Once again, Cervezas Victoria celebrates the Malaga Fair with Grupo WDi.
Beers The Victoria beer brand, part of the Damm Group, places the point of sale as the main focus of its seasonal campaign under the claim "Victoria and Malaga are at the Feria".
When Cervezas Victoria contacted us, they were clear about what they wanted: to celebrate the Malaga Fair with their neighbours in the closest possible way. "Victoria and Malaga are at the Feria" was the claim that encompassed the entire campaign, which was carried out at different points.
For this reason, we focused on the point of sale, the place of direct contact with the consumer, to join in the celebration and raise awareness of the product and encourage sales.
To encourage sales, a promotion has been activated in which, by purchasing the product, consumers enter a draw for a double dinner at the Malaga restaurant La Alvaroteca in Malaga.
In addition, as a direct gift, consumers got a personalised fan with the brand's image. A gift that is very popular with the Malaga public, as it is considered a basic accessory to mitigate the heat of the Fair.
To publicise this action, we were present in 33 points of sale(El Corte Inglés, Carrefour, Maskompra, Maskom, Hipercor, SuperSol, Supermercados M.A.S, Mascerka and Coviran) with promoters who publicised the action. These, via tablets, informed about the promotion and registered the contestants' participation on the spot.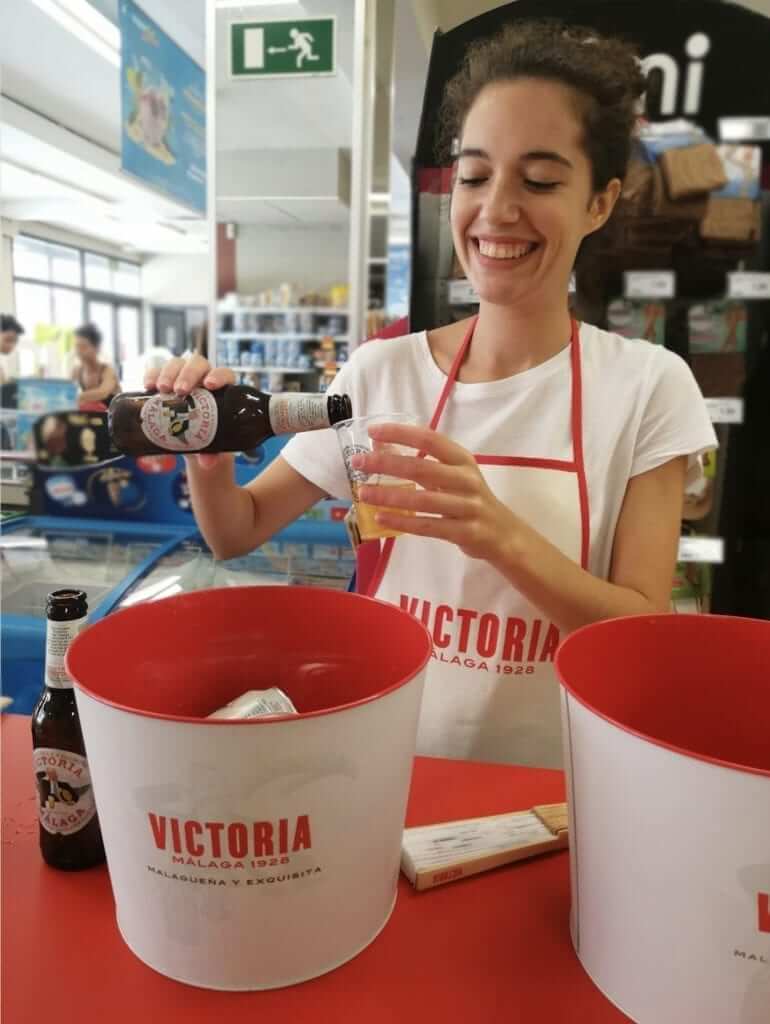 In addition, live gastronomic shows were held in 7 selected centres.
Chefs of the stature of Abilio Arteaga, Carlos Navarro, Juanjo Mancebo, Pepo Frade, Raúl González, Jorge Moreno Vivar and José Andrés Jiménez were the 7 chefs who gave all those present a taste of tapas made with the most representative products of the region while accompanying them with Cerveza Victoria. More than 200 tapas were distributed per day per centre.
In addition to all these activities, there was also a special programme that could be enjoyed on the Gourmet terrace of El Corte Inglés on Avenida Andalucía.
In a space decorated for the occasion, with the image of Cervezas Victoria adapted to different spaces, artists such as Juanma the mentalist, Laura Lowand many more singers were on hand to add a touch of colour to the Fair.
9 evenings that brought together the most curious locals, who enjoyed the best beer with the best shows.