If you are going to carry out brand activations in summer… Let Grupo WDi help you with a few tips
Consider the timing of your campaign
Make sure your campaign is 100% effective by promoting it at the right time and with the right brand activations.
It won't do any good to start promoting sun creams in August when, even though it is the middle of summer, the end of the holidays is nearer and everyone has their product.
Don't forget to set a specific duration for your brand activation either. A short but impactful promotion can yield more results than one that lasts all summer and gets lost among many other promotions. Consider what would work best for your product, and implement it in your campaign.
Let your imagination run wild
2021 has been a year of change, so it's time not to hold back and experiment with your ideas.
The consumer has become much more discerning, and with the rise of online shopping, brand activations at the point of sale have to be foolproof to pass the critical eye test of your consumer.
Creativity plays a very important role here, and it is up to you to choose how to impact your consumers so that they have the feeling of having spent a summer with you.
Create displays that invite people to buy your product and generate that summer feeling of being under the sun with your feet buried in the sand…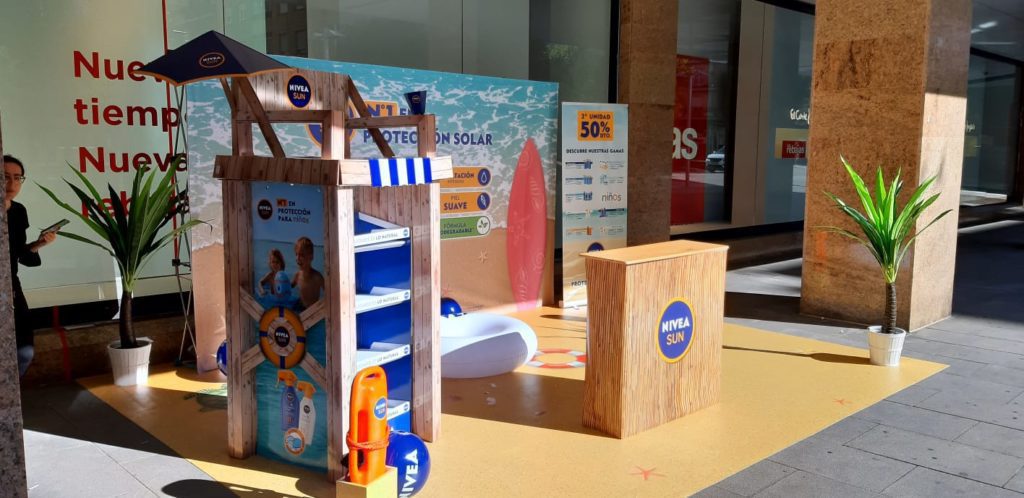 Brand activations and important dates. Create a foolproof campaign.
Don't miss the opportunity to use big events to create brand activations. Now that events are reviving, it's the ideal time to create some jaw-dropping promotions.
Link your products with the European Championship and the Olympic Games and be the King of football this summer 2021. Create your own stand at the point of sale to be the Kingof the Malaga Fair.
Be crowned as the best brand this summer and make your display another tourist destination.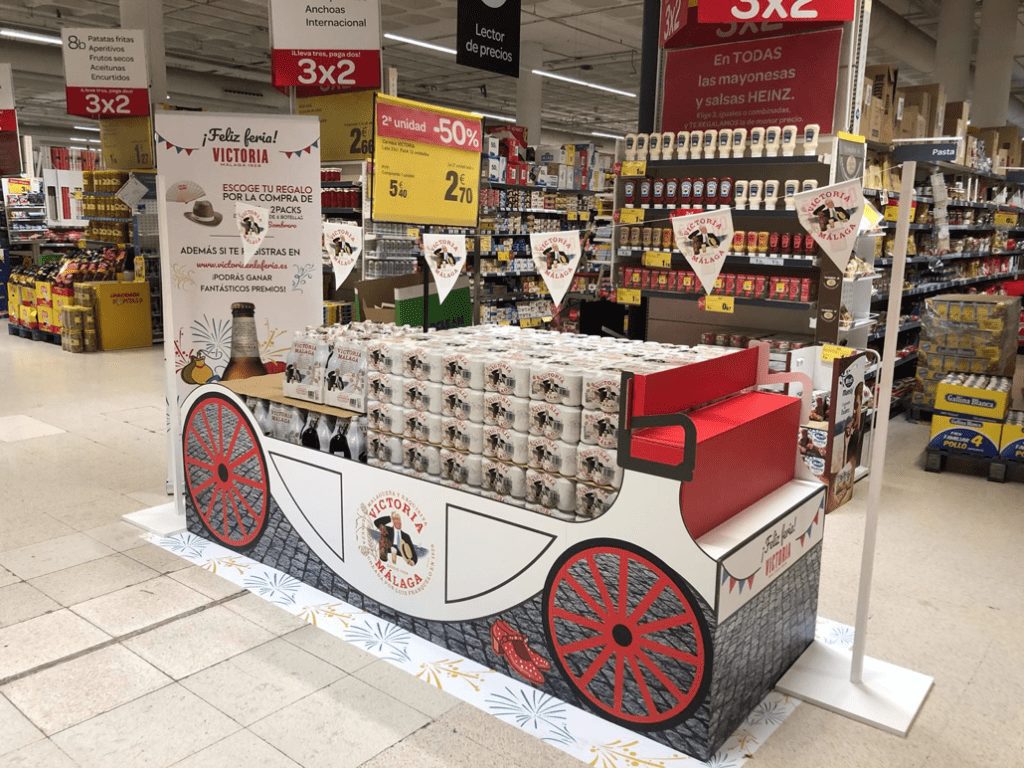 Using these events as the main motif of your campaign can spark creativity and get your consumer to divert their path at the point of sale just to take a picture of your display. Or maybe he wants to spend some time playing point-of-sale tag with your brand.
Clap, clap, clap… Do you hear that? It's the sound of flip-flops approaching your display.
Before thinking about how, think about what. What do you fancy in summer? Sun, beach, pool, friends… Keep this in mind and create an activation around it. Raffles are always a good idea. We all like to think there's a slim chance of ending up with two friends in the Caribbean!
Create fun games at the point of sale that call your consumer to participate. Nothing cheers you up more than hearing laughter that your activation is succeeding. Give an experience. If they get the beach ball in the basket, they get it!
There is no better time than summer for promotions. For the purchase of your product, get another one for free. Or a frisbee. Even flip-flops! This summer, the ideas are limitless.
Leverage social media to make your campaign foolproof. If you have already decided on the raffle, promote it on social media, create a "cool" hashtag and get people to share it.
Make sure everyone knows that you are giving them a gift with their purchase. Even try cross-promotion and get your branded drinks or food on the table at every barbecue this summer.
Everyone remembers who they got a tan thanks to, or what they ate the day their favourite team won the final. Do you really want to miss the opportunity to be the King of Summer 2021 with your brand activations? At Grupo WDi we know you don't, that's why we are 100% available for you.
We want your brand to be at the forefront of your consumers' minds when they think back to this summer.
Contact us to create "THE CAMPAIGN OF SUMMER 2021".