STAND FOR FAGE YOGHURTS AND GIMFACTORY EXHIBITION
Fage International S.A. is an international dairy company founded in Athens, since 2012 based in Luxembourg. It is one of the leading dairy brands in Greece. Today, Fage continues to be a family business passionate about bringing the best quality dairy products to food lovers.
CUSTOMER + BRAND
Fage International S.A.
Yogures FAGE
Request and creative process
The main objectives pursued by the brand were: to increasethe trial of the Fage Totalrange of products (0% and 5% fat), to increase sales of these products and to raise awareness of the characteristics of Fage products.
Fagelleva has been producing high quality strained yoghurts for almost 100 years and aims to contribute to a healthy lifestyle through a balanced diet, providing products rich in protein and low in fat.
Currently, in Spain, the brand is not very well known in our country, which is why we are looking to design a strategy that allows us to create knowledge and experiences together with Fage.
To raise awareness of the brand and the characteristics of its products, it was decided to take the brand tosporting events that would allow us to interact with our target audiences, focusing on the female target.
These events would allow to showcase the product, explain the characteristics and advantagesoffered by Fage, relate the brand to fitness, sport, health, helthyand foodielife through healthyrecipes made with Fage yoghurts.
In this way, we would create interest among consumers who are not yet familiar with the products, but who will be very interested in integrating Fage into their daily diet.
In 2019 he arrived in Madrid GYM FACTORY Active! FITNESS, a new trade fair that aims to become the annual meeting point for trainersand consumersin the fitness sector on the Iberian peninsula.
During the fair there will be congresses, seminars, trainings, championships and demonstrative, competitive and participative activities to enjoy and also to test yourself against other participants. GYM FACTORY Active! gives exhibiting companies the opportunity to meet trainers, instructors and technicians, the great prescribers of gyms and the end consumer once a year.
For these reasons, it was determined that the GYM FACTORY Active! FITNESS was an ideal opportunity to raise FAGE's profile. your target audience.
By participating in the Gym Factory, we would interact with some 40,000 brand-focused visitors, men and women aged 25 to 55, who are concerned about keeping fit through sport and a healthy and balanced diet. And we would come into contact with trainers, instructors and technicians, the great prescribers of gyms.
The idea was to make FAGE products known and tasted through nutritional technicians who have apersonalised relationship with the consumer. This would increase salesof the products and establishloyal Fage consumers who have tested the products thoroughly and have seen the great versatility and benefits of the products.
The main challenge was to design and produce a themed stand with Fage branding. The stand was 18 square metresin size and ideally located for the brand as it was very close to the activities area, which was to be one of the busiest at the fair. Its design(in blue and white, the brand's colours) conveys naturalness and healthiness, and elements such as natural plants have been incorporated to reinforce this fact.
The company logo was included on the fair's website and press releases were produced and included in newsletterssent to users registering and accessing the fair.
The Fage stand was undoubtedly one of the most visited at the fair. More than 1,000 yoghurts were tastedduring the days of the fair. These yogurts were accompanied by delicious and healthy toppings as well as product information, tips and recipes.
A success for the brand and a perfect way to get closer to potential consumers.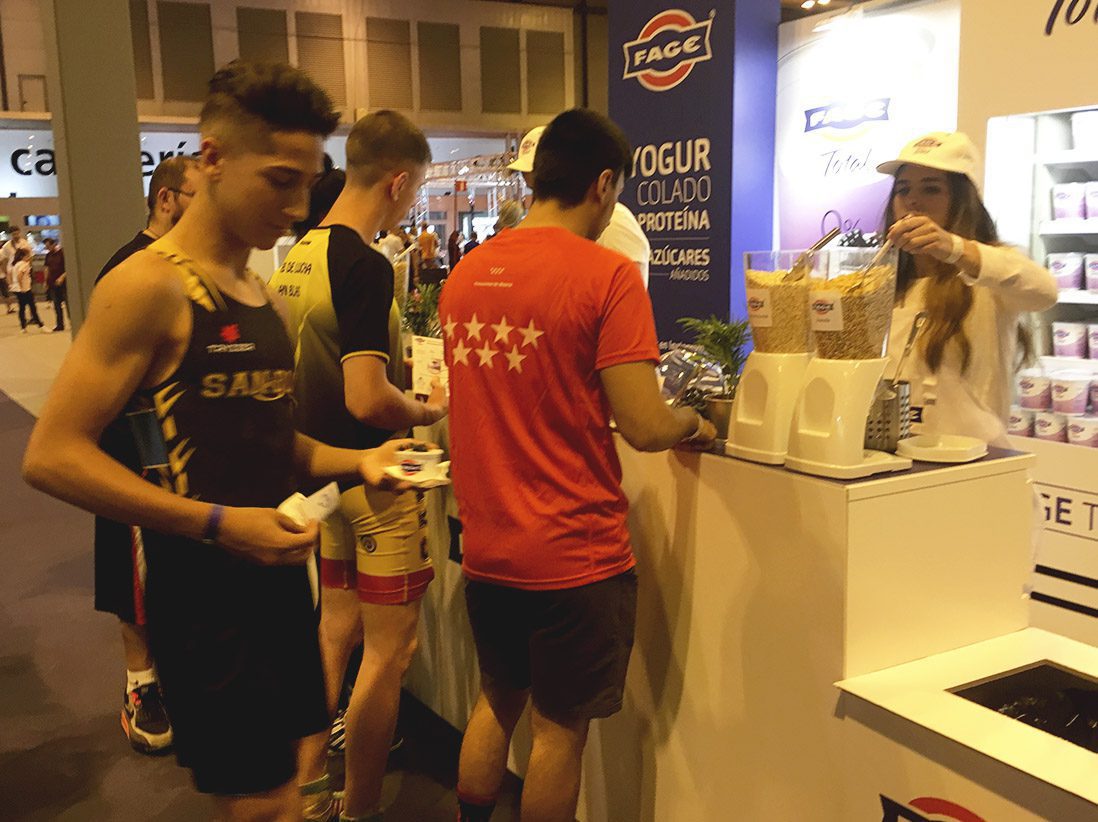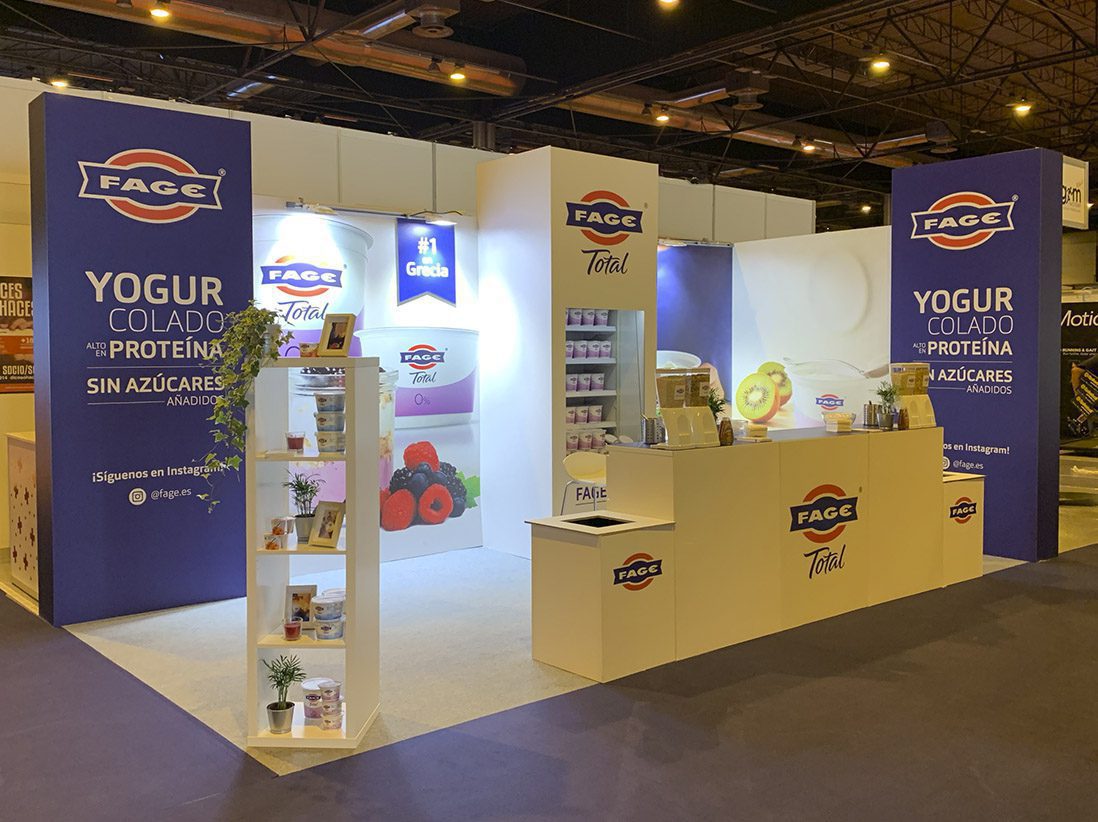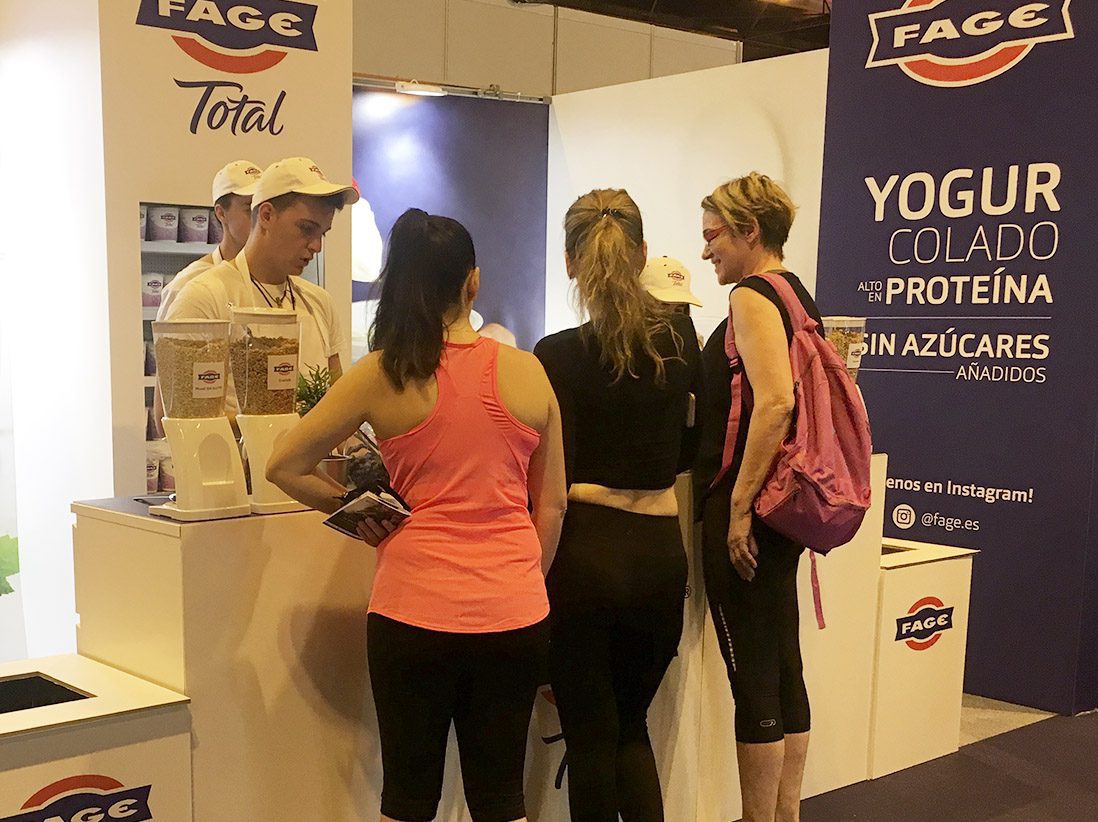 The campaign of your life starts with this form