Cardboard displays can be a world away, but the reality is that they are part of our lives. Every time we enter a store they are there, waiting for us. That's why today we want to talk about the types of cardboard displays we can find and which ones are best suited to your strategy.
Cardboard displays, a Trade Marketing mainstay
Although there are more materials with which to make displays, such as metal, cardboard is one of the most demanded options. That is why they are the most abundant in POS. In addition, they have multiple advantages that can position them as the most successful option in marketing strategies.
In addition, they have multiple advantages that can position them as the most successful option in marketing strategies.
Perhaps versatility is the most important advantage in POP pieces. The ability to design, cut, fold or manipulate cardboard makes it suitable for adapting unique shapes that attract consumers' attention.
It also allows for much greater customization, with graphics, die-cuts and finishes that may not be possible with other materials.
Another of the great advantages of using cardboard as a material is its ease of transport. As we said before, cardboard can be easily folded, and the fact that its pieces are easily assembled makes this task even faster.
Not only the transport from the warehouse to the point of sale. It also makes it easier to move within the point of sale itself because of its light weight.
Cardboard is a material that, contrary to what it may seem, is quite resistant to the passage of time. And the fact that it takes up little space and can be transported makes it even more durable.
It's not just about value for money when it comes to cardboard displays. It is also necessary to take into account that when produced in large quantities, the cost per piece produced is exponentially reduced. In addition, cardboard has a lower cost than other materials.
One of the advantages that go unnoticed when we talk about cardboard displays is the ability to organize that cardboard displays have. Not only can they attract attention with their eye-catching designs and direct "traffic" to our products. They also serve as space delimiters, and also arrange the products in the way we want them to be perceived.
Which display is best suited to my strategy?
The answer, as for almost everything, is: it depends. What do you want to achieve? Draw attention to your brand? Advertise a new product? Is it for a point of sale or for a trade show? Big or small? Either way, what is clear is that there is a specific type of display for what you are looking for.
Vertical or floor stands
Vertical cardboard displays are one of the most commonly used. They are the displays that rise directly from the floor and take up a lot of space. They often function as shelves, and one of their most widespread uses is the promotion of a new product. They are quite resistant and can be moved.
In addition, their large size allows you to get creative with graphics and create displays that become the focus of attention.
Box Pallets
The box pallet is another of the most used displays, not only because of its great resistance. It is also a way to store products at the point of sale and display them for consumers, having the added bonus of standing out from the competition.
In addition, they are quite easy to move, and their large size allows for a variety of shapes and colors that make it more eye-catching.
The fact that they can be used for storage means that their durability over time is long, as they can be constantly refilled with products.
Another of the options offered by the box pallet is to put the direct gift of a promotion.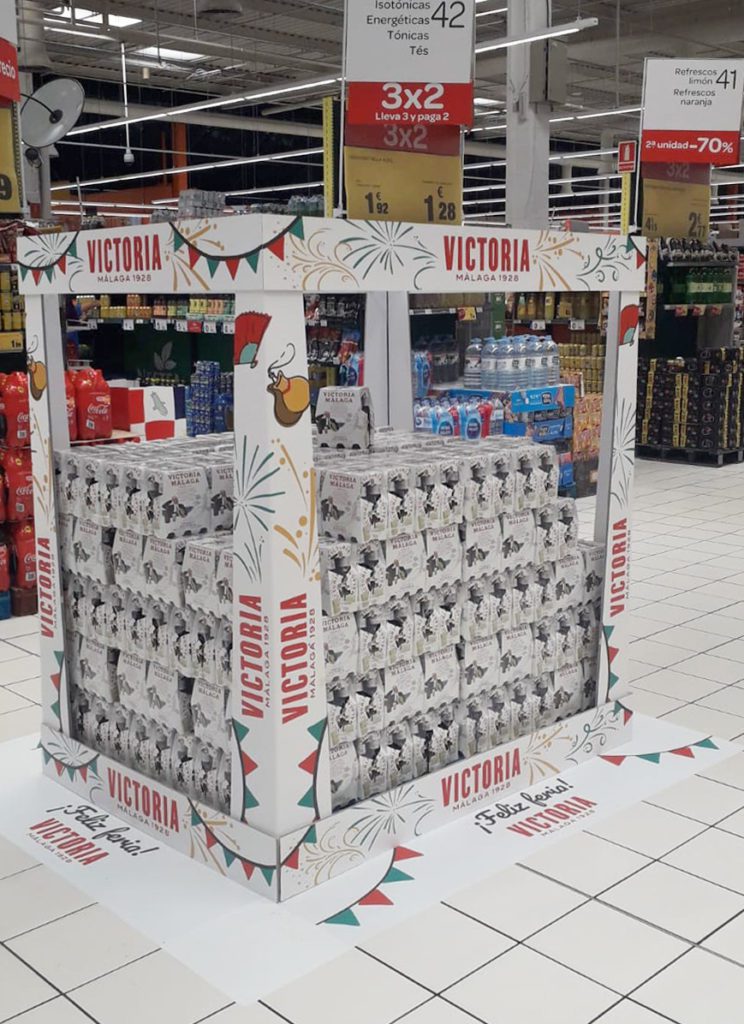 Display or table top
Displays or table top displays are perfect to place in checkout areas and on tables. They are typically used to display brochures, but can also be used to display small products such as makeup, creams or gift samples. They are also easy to assemble, so the point-of-sale manager can simply set them up and refill them as needed.
They are smaller in size, so they are a good choice for attracting extra attention.
Checkout lines are often key areas to display smaller products. This is the time when the customer is already going to pay, and the fact that they have to wait for the person in front of them to pay; makes them spend more time looking at the products in this type of display.
Display Covers
Display covers are another option that can be part of our strategy. Maybe you already have a cardboard or even metal display, but you want to customize it in multiple ways or reuse it.
In this type of situation, the best option is to have a display cover with your campaign design on it.
Any of these options is a good idea for your POS strategy. With the many advantages of display stands, it's just a matter of finding the one that best suits your objective.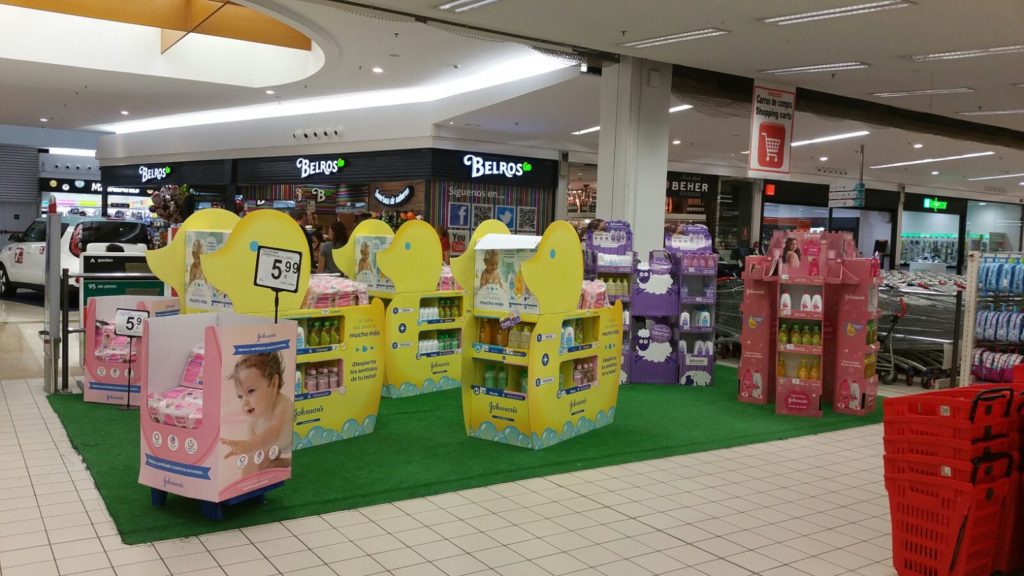 At Grupo WDi we manufacture self-assembly displays. In this way they are easy to transport and assemble without the need of a technical or professional team. And of course, thanks to our design team that is always up to date with the latest trends, designing breathtaking displays is our daily bread.