The future is now and technology applied marketing is everywhere
Anyone looking around has seen that new technologies and their capabilities have become indispensable in the world of marketing and advertising, including in-store advertising.
Thanks to new technologies, companies put consumers at the centre of their strategies, creating a stronger brand-customer bond than can be created with a traditional campaign.
On the one hand, there are the more basic new technologies, such as websites or social media, but nowadays companies are already applying more complex technologies in their marketing campaigns.
Among the most used are augmented reality, QR codes, geolocation… or as we have done in Grupo WDi: creating new technologies that interact in first person with consumers.
At Grupo WDi we attach great importance to the use of new technologiesand we always see them as great allies that can give our projects that "extra" impact that we are always looking for.
One of our projects that best reflects this union between technology, marketing and consumers is the "Roboportero" that we designed, developed and produced for Pepsi and Lays for their sponsorship of the UEFA Champions League.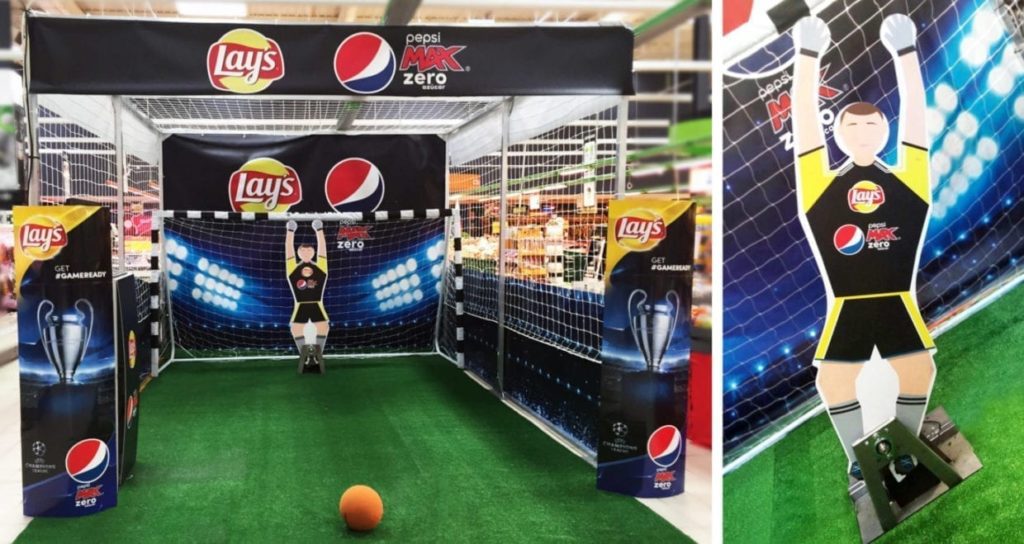 The development of the Roboportero was a challenge for us: a goalkeeper had to stop consumer shots thanks to a built-in camera that analysed and studied the direction of the ball.
After many, many tests, searching for materials inside and outside Spain and hours of work… We did it!
Our Roboportero became the first to be developed in Spain, allowing Pepsi to execute its marketing action in different shopping centres and points of sale as an official sponsor of the UEFA Champions League.
Thanks to this action, the Pepsi brand was reinforced and the hundreds of curious people who tried our Roboportero all over Spain (young and not so young) enjoyed this experience.
That is why we consider this project to be a clear example of how technology applied to marketing, and above all, to actions at the point of sale, can serve as well or better than an advertising campaign in other media.