HAUGHTY, BEAUTIFUL AND PROUD!
Luis Miguel sang it in "La bikina", "haughty, beautiful and proud". And the brands at LGBT Pride applied it.
This is how everyone should go through life, regardless of their sexual status.
Throughout this week, thousands of colours have invaded advertising campaigns all over the country.
On the occasion of the celebration of LGBT Pride throughout this week, today at Grupo WDi we are taking a look at the marketing and advertising campaigns that we liked the most in 2019. For its humour, transgression, originality, commitment… let's start!
Examples of brands at LGBT Pride
Scotch-Brite® – Wash away your prejudices
The famous and classic Scotch-Brite® brand surprises this year with a change of direction in its communication and image. The 3M brand supports diversity and equality with its claim "Wash away your prejudices". For this reason, this year they are joining the MADO (Madrid Orgullo) celebrations by putting their image on one of the floats participating in the LGTB Pride Parade, which will take place this Saturday 6th in the centre of Madrid. A party in which, together with the GayDay organisation, they will celebrate family diversity.
Wallapop – Let nothing and no one stay in the cupboard
Wallapop, the famous app for buying and selling second-hand items, has hit the nail on the head with the slogan of its latest outdoor advertising campaign. By using the expression "coming out of the wardrobe", he has been able to use it in a masterly way to relate it to the objective of his company. If you want to see this announcement live, you only have to go to Madrid's Plaza de la Luna.
Burger King – Pride My Way
The Burger King hamburger chain is also joining Pride. In addition to launching the Unicorn Shake, a milkshake that emulates a unicorn in both shape and colour, they have changed the colours of their crown to Pride colours. Under the hashtag #OrgulloAMiManera, they invited all the kings and queens who wanted to wear it to customise it with their own messages."Less scratches and more…". Which sentence would you complete it with?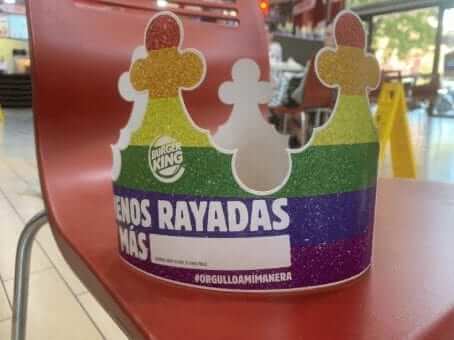 Uber – UberPride
For the second year, the transport company joins as an official sponsor of mobility in Madrid during Pride Week. The company has always made clear its support to the collective through different actions. Today we take a look at a detail that has been seen these days in your app. When ordering an Uber, we could see the Uber route in the Pride colours, instead of the corporate black. A beautiful rainbow that moves around the city as a symbol of bringing tolerance and freedom to others.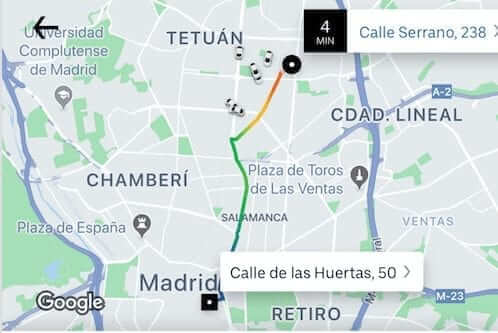 Just Eat – Who cares what I eat?
If you're a fan of food delivery, you probably receive the Just Eat newsletter. Last week they surprised many of us with their particular Pride greeting. Under the slogan "Who cares what I eat?", they joined the party by celebrating with a review of the less normative foods that people have ended up loving: melon with ham, mango gazpacho, kikos for breading… Great campaign!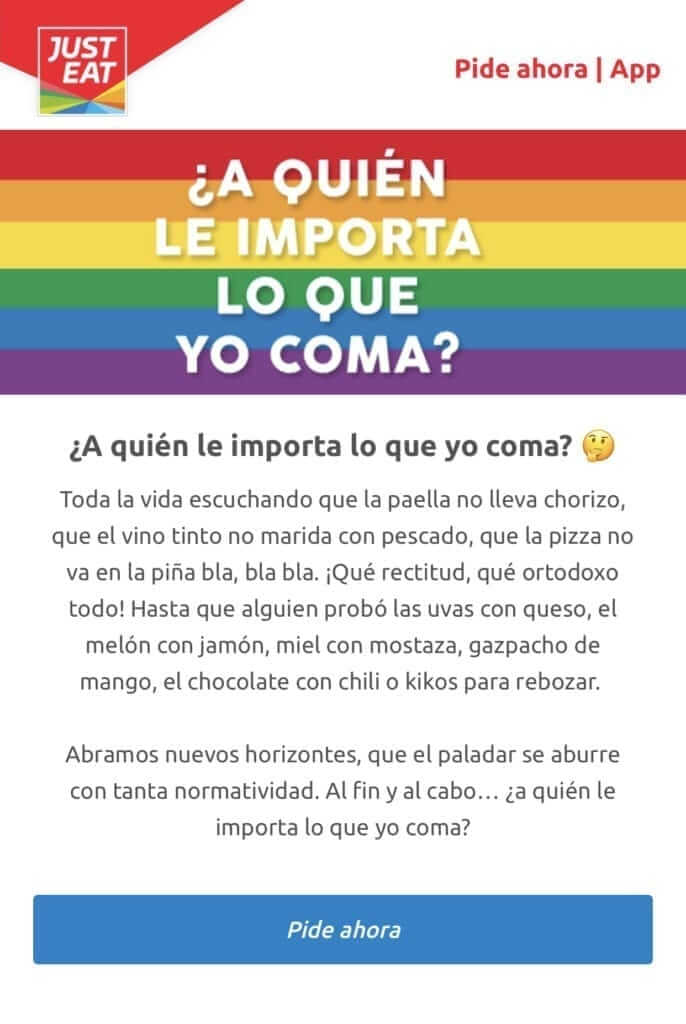 Telepizza – Telepizza Rainbow
Continuing with food, Telepizza has created a campaign that has touched our hearts for its commitment and message of tolerance. On the occasion of Pride, they have created the Telepizza Rainbow. A pizza with toppings in the colour of the Pride flag. But this pizza is not for sale. How to get it then? This is where the most beautiful and engaging part of the campaign comes in. To get it in the participating Madrid venues, all you have to do is carry a sign that violates tolerance. Exchange hate messages for food with lots of love. What better way, as they say, to "feed your pride".
These are just some of the most prominent campaigns. Which one did you like the most, and which one stuck in your memory because of its commitment or message? Do not hesitate to share them with us.
Here are some examples of successful branding for LGBT Pride
Which one would you like to see in future editions?